On 11th August 2018 the team at Tanyel's Smile plan to complete the gruelling London to Paris cycle ride in 24 hour. If you'd like to join us on this challenge for a very good cause helping children going through trauma of cancer, please sign up (at the bottom of the page).
A Fun 24 Hours in the Saddle
The 24 hour London to Paris bike ride route is via Newhaven & Dieppe as follows:
London to Newhaven – 90 km / 56 miles (a doddle)
Newhaven to Dieppe – Ferry. Approximately 4 hrs crossing (even easier but stay of the duty free)
Dieppe to Paris – 160 km / 100 miles (the hard bit_
Arrive at the Arc de Triomphe feeling somewhat triumphant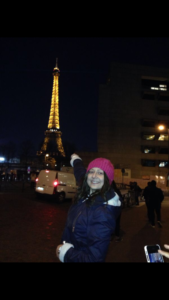 Total cycling distance = 250 km / 156 miles.London to Paris by bike in 24 hours is a challenging yet totally epic ride. It's a real adventure and an opportunity to push yourself and reap the rewards. Fancy taking on this endurance challenge to cycle across 2 countries in under 24 hours? Now is your chance! Imagine setting off from Greenwich London Saturday afternoon next stop – Paris where steak, frites and beers await you.Cycling starts from iconic Greenwich cutty sark on the way out of town.After the obligatory pre-ride pictures you will set off and roll through the English countryside and hills as you make your way to the coast. Newhaven to Dieppe spend your night grabbing a few well-earned hours of shut-eye on the 4 hour ferry crossing until you land on mainland Europe. Ride your bike through sleepy French towns until the sun comes up. Stop at the French Boulanger for patisseries that have come straight out of the oven. Finally, you arrive at L'Arc de Triomphe and cycle down Les Champs Elysees all within 24 hours before tucking into steak frites and beer while gazing at the Eiffel Tower (or Tour de Eiffel if you're French). What an unforgettable way to spend the first half of your weekend.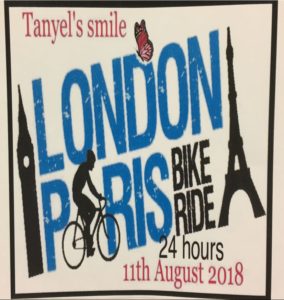 There will be no fundraising target amount to raise We will have one page and all donations raised will go towards Tanyel's Smile all you need to do is bring yourself and a nice bike ?? which you will be comfortable riding and enjoy the team spirit cycling together. We will have leading escort vehicle to follow with cycle route planned and an escort vehicle at rear to look out for us just in case one needs to stop or pullover for any reason or needs a short break . All bags and other items will be kept safe with escort vehicles and plenty breaks will be taken through our journey. We will board a late ferry crossing from Newhaven so you can rest & sleep for 4 hours arriving early Sunday morning Dieppe for breakfast and then continue about 100 miles to Paris .