Earlier this year Cey, Tanyel's father, was part of a World Record breaking marathon team, which raised £100,000 for young children with Cancer.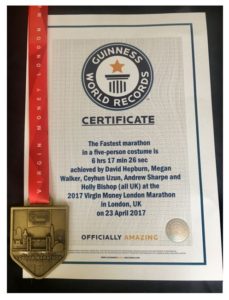 Guinness World Records partnered with the Virgin Money London Marathon (VMLM) for the tenth consecutive year to provide costumed fun runners with on-the-spot world record verification when they crossed the finish line during the event on Sunday 23th April (see Virgin Marathon World Records).
Cey's Scooby Doo team comprised five runners in the Mystery Machine and set the world record for the fastest marathon in a five-person costume. Cey, pictured, wore the long Scooby Doo ears – very fetching. Worryingly he's still wearing them for work.
A fantastic effort by all.